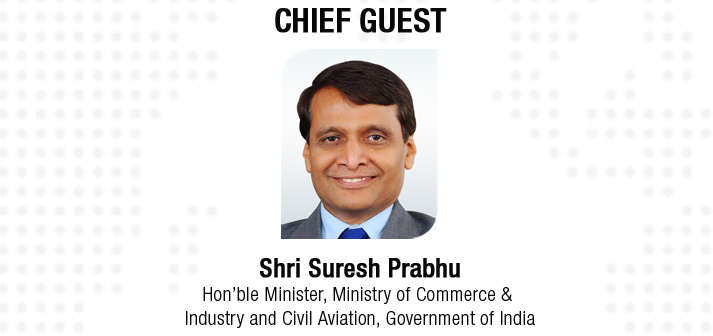 Shri. Suresh Prabhakar Prabhu is the current Minister of Commerce & Industry and Civil Aviation of India, under the Narendra Modi government. He is a Chartered Accountant by profession and a member of the Institute of Chartered Accountants of India. Since 1996, Prabhu has been a repeatedly elected Member of Parliament from Rajapur Lok Sabha constituency in Maharashtra as a member of the Shiv Sena (SS) political party. He quit Shiv Sena and joined BJP on 9 November 2014. He currently represents Andhra Pradesh in Upper House of Indian Parliament.
Shri. Prabhu completed his school from Sharadashram Vidya Mandir, Dadar, Mumbai, followed by a Bachelor in Commerce with Honours from M.L. Dahanukar College, Vile Parle, Mumbai. He received a Bachelor in Law degree from the New Law College (Ruparel College campus), Mumbai. He was All India 11th (eleventh) rank holder in CA exam.
Shri. Prabhu was, at various times during the Premiership of Atal Bihari Vajpayee of 1998 to 2004, Industry Minister, Minister of Environment and Forests, Minister of Fertilizers & Chemicals, Power, Heavy Industry and Public Enterprises. As the Union Minister for Power, he won praise for his performance. As Minister of Power, He introduced major reforms in India's power sector. He is credited with championing and enacting The Electricity Act, 2003 and the reforms that created securitization of dues from the states. He has been elected four terms to the Lok Sabha, India's parliament, from Maharashtra since 1996. However, he lost his seat in the 2009 general election.
Shri. Prabhu was also Chairman of Task Force for Interlinking of Rivers with a status and rank of Union Cabinet Minister. He was elected a member of the World Bank parliamentary network and chaired the South Asia Water regional group of the World Bank.
On 9 November 2014, he was sworn-in as Cabinet minister in Narendra Modi government. Shri. Prabhu was the Union Railway Minister of India from November 2014 to September 2017. He is the incumbent minister of Commerce and Industry. He was elected as Rajya Sabha member from the state of Andhra Pradesh on 3 June 2016.