Press Release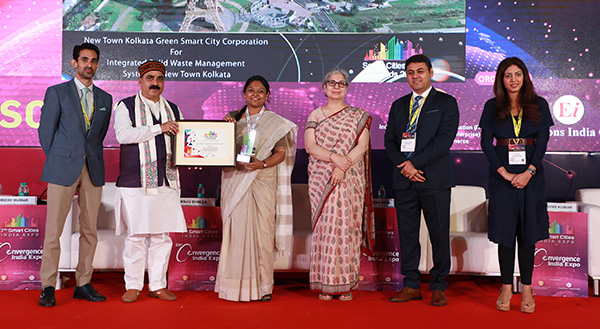 29th Convergence India and 7th Smart Cities India 2022 Expo concluded on a spectacular note with Smart Cities India Awards & FinTech India Innovation Awards
Jibesh Kumar, Hon'ble Minister, Dept. of Information Technology, Govt. of Bihar, facilitated the Smart Cities India Awards & FinTech India Innovation Awards
The expo witnessed over 30,000 people in attendance, and 130+ thought leaders participated in nearly 40 high-powered conference sessions across three days of the expo
New Delhi, 25th March 2022: India's largest tech & infra expo organised by the India Trade Promotion Organisation (ITPO) & Exhibitions India Group came to a spectacular close with Smart Cities India Awards & FinTech India Innovation Awards. The three-day expo hosted approximately 800+ brands and more than 100 start-ups, along with participation from various government departments, public sector undertakings, and private players. The event was organised keeping in mind the COVID-19 protocol, ensuring a safe and seamless experience.

The three-day event brought together startup founders, startup enthusiasts, public and private players across industries and geographies, under one roof. The expo - curated for innovators, disruptors and industry leaders who shared their projects, knowledge, passion and insights – was a great platform for networking and a meeting point for business opportunities.

The last day saw 8 high-powered conference sessions with over 30 key leaders across industries, government and civil society. Apart from creating a platform that can create synergies between the consumers, creators, businesses and the government across various industries, the expo hosted discussions of paramount importance. Day 3 of the expo saw a series of keynote sessions and panel discussions with notable dignitaries across sectors.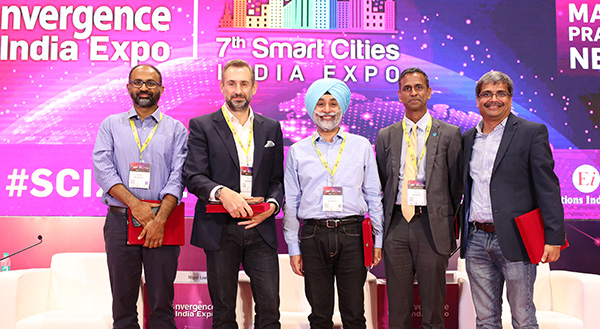 Speaking on the final day of the event, Jibesh Kumar, Hon'ble Minister, Department of Information Technology, Government of Bihar said, "We have been working continuously in the field of digitalization. And it was due to the work done in the field that we were able to reach the last person and help them during the unprecedented crisis of the COVID pandemic. We are working towards creating smart villages and offering them 24hr electricity. We have also worked a lot towards making policies that are both entrepreneur and labour friendly and welcome all of you to come to Bihar and invest."

"We must all come together if we want to grow and soar high, and that's why Convergence India is so important, and clubbing it with the Smart Cities expo further strengthens it." - Anju Bhalla, Joint Secretary, Ministry of Science &Technology.

Chandrika Behl, Managing Director, Exhibitions India Group, said "Convergence India, in its 29th year, and Smart Cities India, in its 7th year, continue their legacy of being platforms that foster growth and accelerate nation-building. The expo provides a forum to exchange ideas and deliberate with leading voices from government and industry at the concurrent conference and City Leaders Conclave. For startups, we provide the opportunity to participate in pitching competitions and mentorship sessions at the 'Startup Pitch' competition. And, to recognise the important work being done across the country towards 'Building a Digital and Smart India,' we conclude this three-day expo with the Smart Cities & FinTech India Innovation Awards."

Hosted by the India Trade Promotion Organisation (ITPO) and Exhibitions India Group (EIG), 29th Convergence India and the 7th Smart Cities India Expo 2022 support the Government's vision of transforming India into a digitally and sustainably empowered economy. Convergence India is at the forefront of India's digital revolution, while the Smart Cities India expo is a reflection of India's emerging modernization and development landscape. The combination of these two leading expos, supporting India's Digital & Smart Cities Missions, delivered an event that accelerated technological innovation, opening with key discourses on the growth of India's digital economy and enabling entrepreneurship as a driving force for socio-economic development.

About Exhibitions India Group
Exhibitions India Group is a trade promotion creating opportunities for investments, joint ventures and technology transfers. Exhibitions India Group acts as an interface between businesses, government, academia, society, media, etc. Exhibitions India Group has been in existence since 1987, and is committed to providing satisfaction to its customers by organising quality and focused international trade shows through exceptional services, employee involvement, market intelligence and continual improvement. For more information, please visit: http://www.exhibitionsindia.com/
For further information, please contact:
Srishti Sharma | Mob: +91 98999 54186 | Email: srishti@onpurposeconsulting.in

Visit: www.eiexpolive.com
To view full list of Speakers, visit: www.eiexpolive.com/speakers