Press Release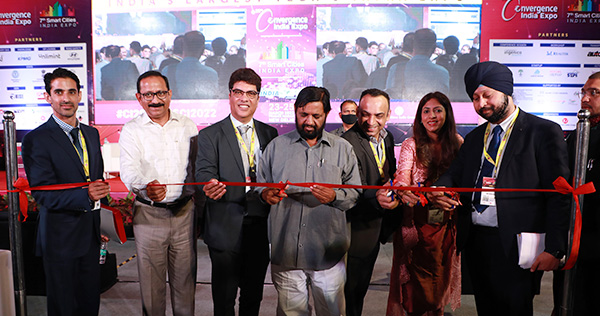 ITPO & EIG mark a successful Day One of the 29th Convergence India & 7th Smart Cities India 2022 Expo
12 high-powered conference sessions with over 30 thought leaders participate on day one
Next two days of the expo to focus on digital & smart city transformations, future of startups and development through the gender lens
New Delhi, 23rd March 2022: India's largest tech & Infra expo concluded a successful first day, with a virtual address by Shri Nitin Gadkari, Hon'ble Union Minister for Road Transport & Highways, Government of India​​. India Trade Promotion Organisation (ITPO) & Exhibitions India Group inaugurated the 29th Convergence India and 7th Smart Cities India 2022 Expo today at Pragati Maidan, New Delhi. The three-day expo is hosting approximately 800+ brands and more than 100 start-ups, along with participation from various government departments, public sector undertakings, and smart cities. The event was organised keeping in mind the COVID-19 protocol, ensuring a safe and seamless experience.

The inaugural session set the tone of an eventful day, with addresses from Shri Kaushal Kishore, Hon'ble Minister of State, Ministry of Housing & Urban Affairs, Government of India; Shri Vibhu Nayar, IAS - Executive Director ITPO; Mr. Sandeep Narula, Chairman, Electronics & Computers Software Export Promotion Council (ESC) India; Mr. Gurmeet Singh, Executive Director, ESC India; and Ms. Chandrika Behl, Managing Director, Exhibitions India Group; and Dhruv Behl, Director - Exhibitions India Group.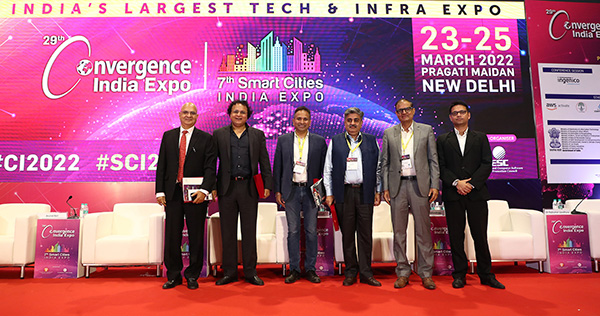 The first day was packed with 12 high-powered conference sessions with over 30 thought leaders. Apart from hosting a plethora of technology-redefining brands under one umbrella, day 1 of the expo also organized a series of keynote sessions and panel discussions with notable dignitaries across sectors. The conversations covered pertinent topics such as the readiness versus the reality of 5G in India, surge of OTT industry in the pandemic and its impact on growth, the future of Indian cities, and accelerating the modal shift to public and shared transport systems.

Shri Nitin Gadkari, Hon'ble Union Minister for Road Transport & Highways, Government of India​​, addressed the gathering, "I'm really happy with the Smart Cities India and Convergence India 2022 exhibition and convention. It is going to qualitatively contribute to our vision for the development of a new India. I appreciate the expo's vision for Smart Cities in India, particularly the fact that we are working to bring India to the world standard. I appreciate the role of  the industry and the organisers of the expo and extend my best wishes to all."

Speaking at the inauguration, Kaushal Kishore, Hon'ble Minister of State, Ministry of Housing and Urban Affairs, Government of India in the context of the #SCI2022, "A fragmented approach to building smart cities is not a visible approach; we must strive to make whole cities smart. The vision of Smart Cities is not limited to creating infrastructure but also incorporates the idea of making every individual self-reliant. Smart City does not only mean infrastructure, electricity, and housing, it means adding to the income levels of families. We're glad to see an event like this, providing a platform for such conversations."

Chandrika Behl, Managing Director, Exhibitions India Group, said "We are back with a physical event post a hiatus, and are glad to host industry stalwarts at the expo. The annual Convergence India and Smart Cities India Expo have provided an excellent platform for brands to showcase their work and network across technologies, innovation and everything that is smart and sustainable. We are glad to have been able to be back on ground and create an ecosystem of opportunities."

Day two has an equally powerful and exciting line-up of thought leaders and knowledge sessions as part of the Digital Transformation Conclave, the City Leaders Conclave, the Future of Startups in India and sessions viewing development from a gender lens with discussions on Women in Tech and Future for Female Founders in Startups.

About Convergence India Expo:
Convergence India, now in its 29th edition, heralded the telecom revolution in India. It is the largest technology and infrastructure expo in the country The expo provides a platform to showcase 'Brand India' and focuses on promoting the 'Make in India' & 'Digital India' campaigns and showcases the emerging technologies. It includes, Internet of Things, Mobile India, EmbeddedTech, Fintech & Digital Gaming.

About Smart Cities India Expo:
Smart Cities India expo aims to deliver better citizen services by showcasing the latest technologies.  Integrating technology with the key pillars of urban development, i.e. green buildings, energy, transport, clean environment, and water, for optimising resources and making cities smart and sustainable. The expo is a unique meeting point for Union and State government officials, private sector representatives, foreign delegations, businesses, city leaders, etc.
For further information, please contact:
Srishti Sharma | Mob: +91 98999 54186 | Email: srishti@onpurposeconsulting.in

Visit: www.eiexpolive.com
To view full list of Speakers, visit: www.eiexpolive.com/speakers